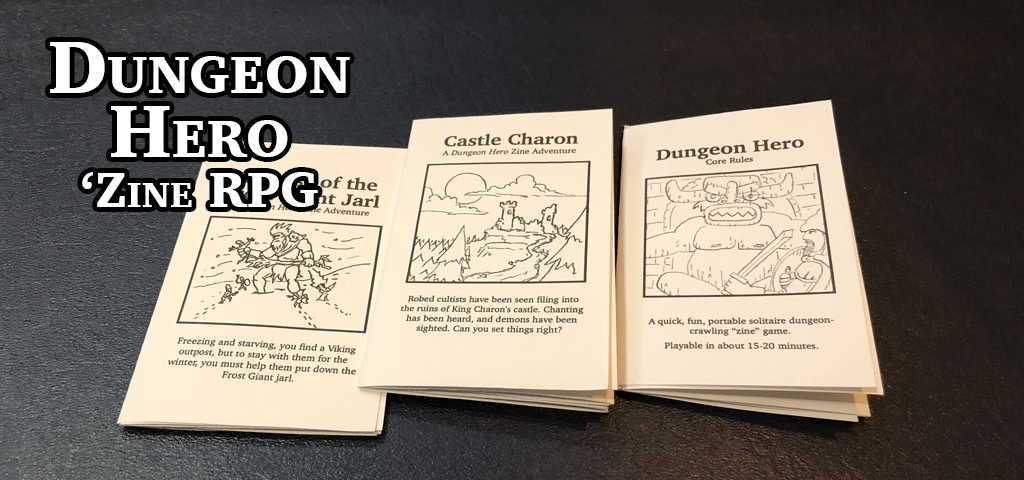 Dungeon Hero Volume 1: Starter Set
MORE ADVENTURES COMING SOON! – Follow to be notified when the new adventures are released! ALSO AVAILABLE: Dungeon Hero Volume 2: Giant Beasts, a collection of four new adventures with the theme of enormous creatures to fight.
Dungeon Hero is a simple, fast, solitaire RPG game in a print-and-play "zine" format.
Create a hero using eight defining characteristics, like Archer of the Realm or Chainmail or Stealthy. Assign them dice ranging from d12 to d6. Note your Health and Stamina levels, and then select an adventure 'zine.
Each adventure 'zine packs a lot of adventure for such a little size! Using a clever new exploration mechanic, each foray into the dungeon will offer different challenges using a simple combination of two dungeon elements. Select two of your own traits and roll off against the two dungeon elements, and see if you can beat the dangerous situation. If you roll well, you survive to continue deeper. If you fail, you will take damage. But don't despair – you can spend Stamina to re-roll dice before you apply their effects!
If you can make it through the dungeon, you win! Your score is how many treasures you manage to bring out of the dungeon – see if you can beat your high score by playing again!
Volume One of Dungeon Hero contains three eight-page 'zines that you print out, cut, and fold yourself:
Dungeon Hero Core Rules – The core rulebook for playing Dungeon Hero. Explains the rules for character creation and gameplay, and provides an example of play.
Castle Charon – Robed cultists have been seen filing into the ruins of King Charon's castle. Chanting has been heard, and demons have been sighted. Can you set things right?
Fortress of the Frost Giant Jarl – Freezing and starving, you find a Viking outpost, but to stay with them for the winter, you must help them put down the Frost Giant jarl.
The zines come as a three-page PDF that you print out and fold into a "zine". You can see how it all works in this video:
If you like Dungeon Hero, be sure to check out Fable on your Table, which is a deeper, more detailed version of the system used in Dungeon Hero.
Version History
v1.5 - Updated cover art for the Core Rules booklet.
v1.4 - Clarified some rules in the Core Rules booklet. Fixed a typo in the character sheets in the 'zine format adventures.
v1.3 - Clarified the effect of Despair when sacrificing a viking.
v1.2 update - Added standalone versions of the booklets for reading on a tablet or phone.
v1.2 - Cleaned up the language and definitions in the core rules to make things clearer and give game mechanics explicit names (such as naming rolls advance rolls or challenge rolls). Minor changes to the adventures to reflect these changes.
v1.1 - Fixed some typos in Castle Charon.
v1.0 - Initial release.
Download
Click download now to get access to the following files:
Dungeon Hero Zines Volume 1 v. 1.5 (PDF)
3 MB
Core Rules Standalone v. 1.5 (PDF)
359 kB
Fortress of the Frost Giant Jarl Standalone v. 1.3 (PDF)
303 kB
Castle Charon Standalone v. 1.2 (PDF)
306 kB
Comments
Log in with itch.io to leave a comment.
Interesting.
When a line has several enemies, am I correct to assume that I have to defeat them one after the other, gaining one treasure each time I defeat one (and losing overkill, that is each new enemy starts anew)?
Amazing. I was so bored before I found this.
Then my goal for the game is accomplished! Glad you're enjoying it. More is coming.
pure genius. The cut and reverse fold to create the book, brilliant!
Glad you like it!
I can't take credit for the cut and reverse fold setup, though - that's a staple of the "zines" community. I picked up the technique looking at other people making 'zines around the web. (It is pretty cool, though, isn't it?)