Welcome Aboard, Captain
A downloadable Print-and-Play Game
Overview
Welcome Aboard, Captain is a solitaire tabletop roleplaying game where you take the role of starship captain.
Hand-pick a bridge crew, configure your starship's spaceframe, and embark on missions across the galaxy.

Featuring cozy, solitaire-first design and minimal printing requirements, Welcome Aboard, Captain offers compelling adventures that tell deep and engaging stories.
Game Features
Welcome Aboard, Captain offers several compelling features:
Print-and-play with low print requirements
You only need to print two printer-friendly pages (or six if you want the handy reference sheets). Everything else is intended to be used on your device.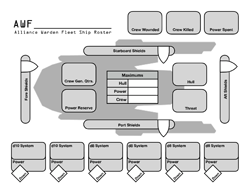 Simple and powerful character and starship creation
You can create a bridge officer or a starship in just a minute or two, with a simple system for representing any unique character feature or experimental starship system you can imagine.
Want your doctor to be a leading xenobiology expert? No problem. Want your engineer to be a hologram or an android? Easy. Want your starship to have an experimental Hydrogen Crucible as its power source or 15' tall robotic exosuits for dangerous excursions? They're easy to add, and they will work naturally with the mechanics of the resolution system in intuitive ways.
You can even add minor traits to your characters and minor systems to your ship during play so you don't need to fully define them before playing.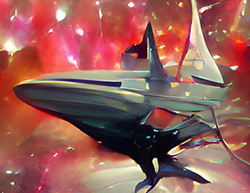 Surprising and Challenging Procedural Mission System
The game features a powerful but straightforward system for creating compelling missions with intricate plotlines that respond to your command decisions, which can be anything you want. Your decisions as captain drive the story.
Evocative "2x2" resolution system
Welcome Aboard, Captain uses the innovative system pioneered in Dungeon Hero and Fable on your Table, but streamlined and improved to give more interesting results. Flexible and easily applied to any situation your bridge officers find themselves in, the 2x2 system offers a lot of storytelling power.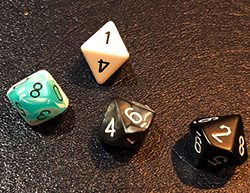 Designed with "coziness" in mind
Game features allow a "cozier" experience. Tired of games that always keep you on the razor edge of failure, with galaxy-ending stakes and death all around every moment? Welcome Aboard, Captain has as a design goal to allow a more career-focused, "slice of life" approach to your experience.
It also has built-in features for modulating the difficulty and challenge levels. Want to run the game with kids or just go along with the story for the ride without fear of a "total party kill"? Play at "green alert" level for easy challenges and plenty of leeway. Want a tough challenge? Play at "red alert" level. Or just play at "amber alert" level for the standard challenge.
You can even change the alert level on the fly through your missions, too, so you're not locked in to a given challenge level.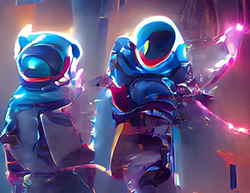 Two ways to play
Enjoy the game two different ways:
The game comes with Charon Wormhole, Charybdis Nebula, and The Cetus Response "Duty Sector" booklets that give you fully-authored solitaire adventures that you play through for a guided story. The first duty sector, Charon Wormhole, teaches you the basics of the game as you play.
When you are done with the Duty Sector booklets, or if you don't want to use them, dive into the robust procedural mission generator that creates varied and challenging mission scenarios, from scientific survey missions, to military exercises, to diplomatic engagements. The missions advance based on the command decisions you make, so they can react to your strategies and priorities. The third Duty Sector booklet, The Cetus Response provides a full working example of a generated mission complete with commentary and guidance.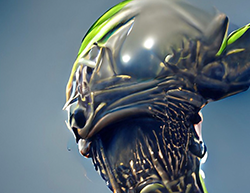 Solitaire-first Design
Built from the ground up to support solitaire play, Welcome Aboard, Captain puts you in command. Take the role of captain, recruiting a crew and outfitting a starship. Make the command decisions, delegate tasks to your bridge crew, and measure your career against the three pillars of the Alliance Lodestar – Explore, Understand, and Unite.
But even though it's designed for solitaire, the system works perfectly fine for pick-up-and-play games in a traditional tabletop RPG setting. The rules include suggestions and guidance for running Welcome Aboard, Captain as an easy and quick sci-fi rules set.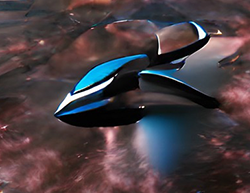 Setting
Welcome Aboard, Captain takes place in a new original setting called simply The Alliance.
Earth emerged late onto the galactic stage with little to offer other than goodwill. But we were in the right place at the right time for it, allowing us to leverage our deep experience in managing the diversity of our own planet to bring together other societies and cultures. Together with other species, we helped form the Alliance Charter, a peace treaty between dozens of homeworlds, bringing an unprecedented opportunity for peace to the galaxy.
It hasn't been without strife. Skeptics and enemies are always testing our resolve for peace and acceptance, but we have consistently answered with courage, perseverance, and when necessary, our lives. So far, the peace is holding, and it is growing ever stronger.
To support the charter, we have formed the Alliance Wardens, an organization of specialists forming a fleet charged with embodying the core principles of the Alliance Lodestar – to explore, understand, and unite. For now, it is crewed almost entirely by humans, but slowly, we are recruiting other species to staff our starships, with the ultimate goal of a vibrant, diverse force working for peace representing every culture and species in the Alliance.
You will play the captain of an Alliace Warden Fleet starship, with a crew that you hand-select. You will work directly with your "bridge crew" – officers of various departments like engineering, science, and medical – and take on humanitarian, exploration, diplomatic, and science missions that will help advance the peace and strength of the entire galaxy.
As Vice President Sana said in her commencement address to the first graduating class of Wardens at the Alliance Academy:
Be the hand that lifts up, the voice that comforts, and the eye that sees and bears witness.
Can you rise to the challenge of being an Alliance Warden?
What you get
The game comes with six documents, only one of which you need to print to play (although the rules document is print-friendly if you choose to print it):
The Rosters document (PDF), containing the one-page crew roster, the one-page ship record, some optional pages of handy reference information, and a pre-generated crew and ship if you don't want to create your own.
The Core Rulebook (PDF), with 130 pages of setting information, rules for play, the mission generator, and content randomization tools.
Charon Wormhole Duty Sector (PDF) is a 50-page pre-written adventure which teaches you the basics of the game as you play through a scripted solitaire mission, "choose your own adventure" style.
Charybdis Nebula Duty Sector (PDF) is an 80-page pre-written adventure featuring a close look at some of the alien species introduced in the setting.
The Cetus Response Duty Sector (PDF) is a 56-page pre-written adventure showing a complete adventure generated using the procedural mission generator that you can play through, containing commentary and guidance for using the generator yourself to create your own compelling missions.
A link to a print-on-demand service where you can order a physical, printed version of the rulebook.
If you like, you can try Charon Wormhole for free to get a feel for the system first.
Some sample pages from the included documents are shown at right. (Note that these sample images are lower-resolution than the delivered PDF files; text in the PDF files is clear, crisp, and resolution-independent.)
Purchase
In order to download this Print-and-Play Game you must purchase it at or above the minimum price of $5 USD. You will get access to the following files:
"Welcome Aboard, Captain" Rules, v1.13 (PDF)
35 MB
Rosters, v1.13 (PDF) – Print this document
592 kB
Charon Wormhole, v1.12 (PDF)
The Cetus Response, v1.12 (PDF)
25 MB
Charybdis Nebula, v1.11 (PDF)
36 MB
Print Version Information, v1.11 (PDF)
2 MB